Deliver workouts for any training scenario whether your clients are in your gym, anywhere in the world, pro athletes on the road, or in-between sessions
FITNESS PROS WHO TRUST US
Exercise.com's Workout Software
Supercharge Client Retention with Automated Workout Engagement
Send workout reminders and summaries via email, text, and push notifications so they never miss a workout
Your Staff's Workout Management Headquarters to Manage Their Clients
Connect your staff with their clients to manage their client workouts in your app
Workout Progress Made Easy with Workout Summaries, Reports, and Charts
Never miss another opportunity to engage your clients on their workout journey with easy performance analysis
EASY TO USE WORKOUT PLAN CREATOR
Our simple workout plan creator and exercise manager provide flexible solutions to save you time creating workouts with built-in integrations, tools, and more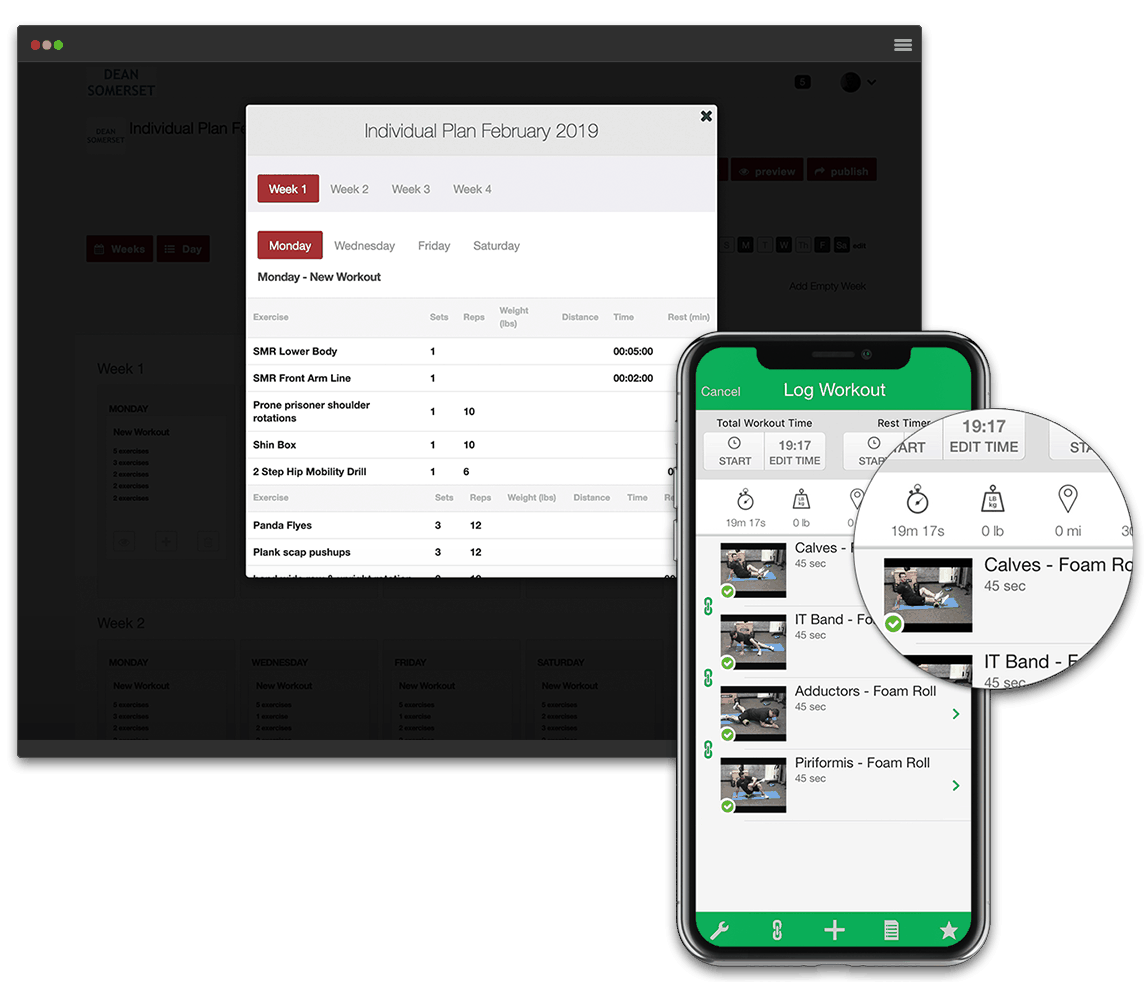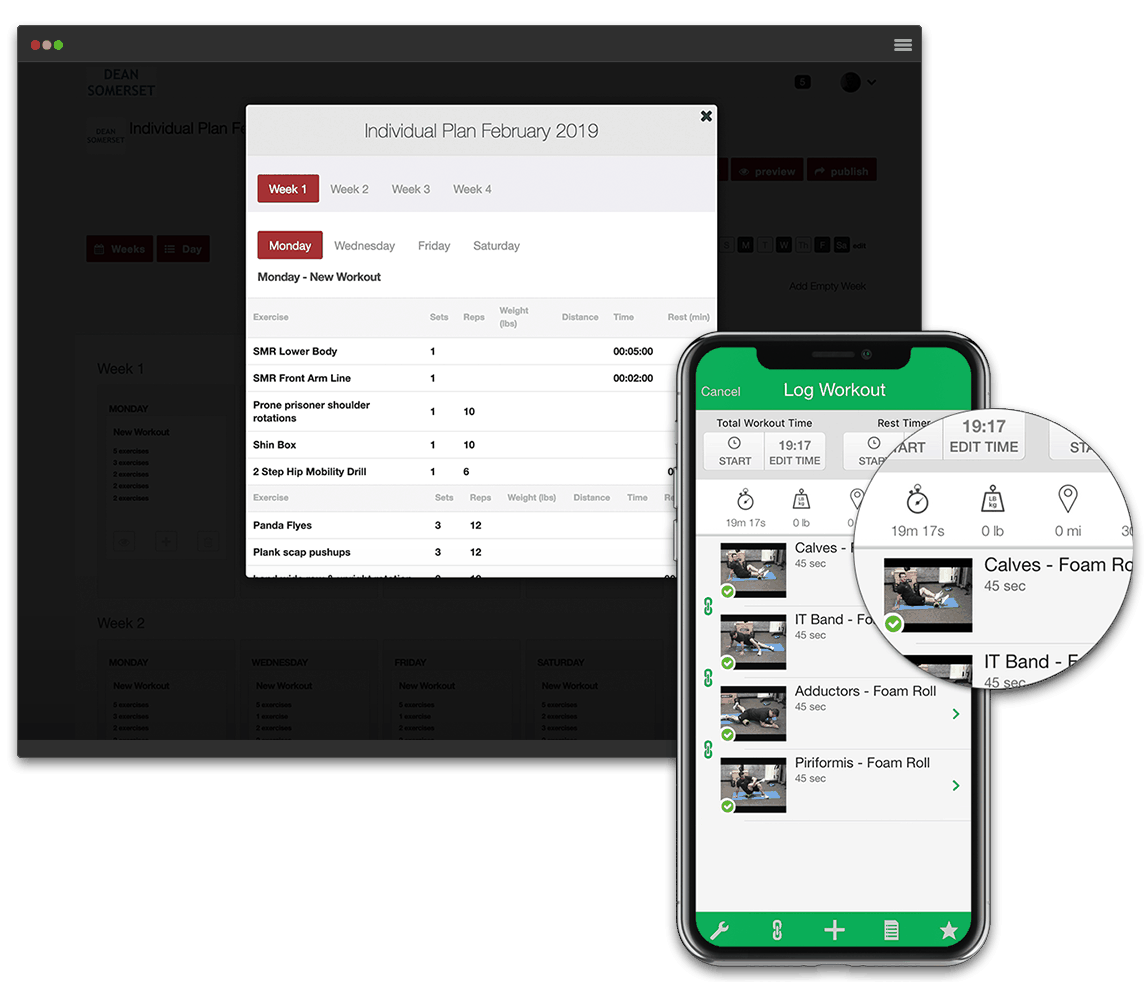 EASY TO USE WORKOUT PLAN CREATOR
Our simple workout plan creator and exercise manager provide flexible solutions to save you time creating workouts with built-in integrations, tools, and more
DELIVER WORKOUTS FOR ANY SCENARIO
Schedule workouts or a saved workout plan template to a client, group, or class workout calendar
CLIENT & TRAINER APP WORKOUT LOGGING
Clients and trainers can easily log workouts, view exercise history, and see notes directly from your custom-branded apps
CLIENT & TRAINER APP WORKOUT LOGGING
Clients and trainers can easily log workouts, view exercise history, and see notes directly from your custom-branded apps
SMART PERFORMANCE ANALYSIS MADE EASY
Tracking your clients successes and opportunities has never been easier with activity, exercise performance tracking, workout snapshots, record tracking, and progress photos
STAND OUT WITH YOUR OWN CUSTOM-BRANDED APPS
Our software makes your life easier providing your clients with a unified scheduling and workout experience from apps to web with the brand they trust.
STAND OUT WITH YOUR OWN CUSTOM-BRANDED APPS
Our software makes your life easier providing your clients with a unified scheduling and workout experience from apps to web with the brand they trust.
WHAT ARE FITNESS PROS SAYING ABOUT EXERCISE.COM?
The Exercise.com team is amazing, and their all-in-one software is more than we ever expected! All of this is made possible by a high-quality team.
Mike Boyle
Our custom-branded apps have helped us continue to make progress when training athletes, tracking their performance, and managing our business.
Damon Goddard
I sold a workout program and matched my yearly salary of in-person training within two weeks of selling to my community.
Paul Fabritz
Exercise.com makes my life easier by providing an all-in-one solution and the opportunity to help those who otherwise would never have access to my programming!
Tony Gentilcore
FREQUENTLY ASKED QUESTIONS
Who are you guys, anyway?
The team at Exercise.com solves a major problem — how to grow your business without wasting time and losing money. We work with the real, confident decision makers — the best of the best — like James Harrison (Steelers great), D1 Training, Fairchild Sports Performance, and Freestyle Connection — and offer our all-in-one fitness business software to simplify managing your business.
What sets you apart from your competitors?
We turbocharge your business with our all-in-one fitness business software that's custom branded for your business.
• Efficiently schedule, view, and manage all appointments and classes — including by trainer, location, and service — with easy options for scheduling recurring events and availability.
• Save time creating workouts with our simple workout plan creator and exercise manager and built-in integrations, tools, and more.
• Sell your training three ways – group subscriptions, individualized training, and single workout plans – to increase revenue inside and outside your training walls.
• Take clients through your custom assessments to automatically deliver personalized workouts based on the data important to their success.
Why not pay for custom development?
So many things could go wrong when building custom-branded apps. It's also expensive, takes years to develop, and requires trust with your developers. We have a proven track record delivering apps for top trainers around the world and remove the risks present when doing it on your own.
What if I'm not technical?
You don't need to be. Our dev team will build your custom-branded apps and take care of all the technical stuff so you can focus on what you do best.
What if I don't have a following?
Engaging the followers you have is paramount because you can instantly convert engaged followers into paying clients with your all-in-one fitness business software.
Is it hard to set up?
No, it's very easy. All you need to do is follow our success team's proven process. We will deliver your custom-branded, all-in-one fitness business software, and you can do what you do best!
What if I wait to implement this solution?
If you wait, you will leave a lot of opportunity on the table to save time as you scale and manage your business with all-in-one software to engage and retain your clients. Whether you're looking to bill customers on a recurring basis, single session, or package basis, do it all with a fully integrated, secure platform that can support in-person and online payments. This is a high-quality problem to solve. You shouldn't wait to solve it.
What exactly do I get?
You get all-in-one fitness business software that does everything you need. No more having one software solution for doing personal training, another for booking and scheduling, something else for client assessments, and yet another pricey subscription for marketing and client communication. And then there are custom-branded iOS & Android apps. If you're tired of paying too much for too many moving parts, stop the hacks and demo the Exercise.com all-in-one fitness business software today. This all-in-one fitness business software will save you time running your business, handle everything in one place, provide endless opportunities to engage and retain your clients, and allow you to sell workout plans.
Will this really work for me?
Yes. We have a proven track record with fitness professionals like Ashley Borden, Just-Train, PJF Performance, Madeline Moves, and Fit Thrive. Our all-in-one fitness business software will allow you to grow your business as much as you want.
What are the next steps?
The next step is simple. Click "Get a Price" anywhere on this page and schedule a call with one of our team members.
Will this integrate with my other software?
Our software integrates with a variety of other software including Zapier, Stripe, YouTube, Vimeo, MailChimp, MyFitnessPal, ConvertKit, and more.
What if I don't have the budget?
This is an all-in-one fitness business software that allows you to grow your business as much as you'd like. You should strike while the iron is hot by investing in a workout platform that will help you scale your business, earn more revenue, retain and engage your clients, and save you time running your business.
JOEL OHMAN
CEO & CO-FOUNDER
MBA, University of South Florida
MDiv, SEBTS
CERTIFIED FINANCIAL PLANNER™ (CFP®)
5X Serial Entrepreneur
#1 Bestselling Author
Fellowship of Christian Athletes (FCA) Board Member
College Basketball, American Kickboxing, Krav Maga
JOHN GADBOIS
CTO & CO-FOUNDER
MS, Computer Science, Georgia Tech
MBA, University of Connecticut
Pianist
Fluent in Ruby on Rails
Hiking, Running, Weightlifting
JEFF CREWS
CMO
Proven Fitness Business Solution Expert
(Champion PT & Performance $4.5K MRR within the first month)
College Soccer Coach
Youth Soccer Missions Leader
College Soccer, Basketball, Running
JOHN OHMAN
COO/CFO
Accounting Southeastern University
MBA University of South Florida
NSCA-Certified Personal Trainers (NSCA-CPT)
Basketball, Weightlifting
TYLER SPRAUL
DIRECTOR OF UX & HEAD TRAINER
NSCA-Certified Strength and Conditioning Specialist
College Soccer All-American
Soccer Coach
Reading, Learning
JOSH BARNES
MARKETING MANAGER
MS Innovation and Technology, Florida Polytechnic
Aspiring Programmer
Hiking, Traveling, Basketball
SARAH TETA
DIRECTOR OF CLIENT SUCCESS
BA, Communication, University of South Florida
USF Women's Soccer Alumni
Retired Professional Soccer Player
Baking, Hiking, J-E-T-S fan
JACKIE SIMPSON
CLIENT SOLUTIONS EXECUTIVE
MBA, Busines administration and supply chain management
BS, Business, University of South Florida
Professional Soccer Player
USF Women's Soccer Alumni
Bilingual (Spanish)
BEN CLUM
SOFTWARE ENGINEER
BS Computer Science, Bob Jones University
Full Stack Developer
Ruby on Rails
Ember
Soccer, Biking
MATHEW B. SIMS
EDITOR-IN-CHIEF
BA, English
Graduate Studies in Theology
Published Author, Editor, & Contributor
SEO Student
Foodie, Reading, Hiking, Travel
Boston Sports
BRITTANY MANCUSO
ASSOCIATE EDITOR
BA, Creative Writing, Florida State University
Published Author
Content Creator
Aspiring CPT
Weightlifting, Hiking, Biking, Yoga, & Cats
SCHIMRI YOYO
TEAM WRITER
Licensed Insurance Agent
Financial Advisor
MEd, Special Education and Training
MA, Creative Writing
Villanova Men's Basketball and Big East Examiner
Fluent, French Creole (Haitian Kreyól)
ALISA MARTIN
TEAM WRITER & RESEARCHER
BS, Medical Technology,
LSU Health Sciences Center
University English Lecturer, Morocco
Aspiring Copy Editor
Personal Trainer
Traveling, Language, Running
Fluent, Moroccan Arabic
MELISSA MORRIS
TEAM WRITER
EdD, Educational Leadership, University of Missouri
MS, Exercise Science, Middle Tennessee State University
BS, Exercise Science, Southeast Missouri State University
ACSM Certified Exercise Physiologist
Certified Sports Nutritionist from the ISSN
Reading, Mizzou, St. Louis sports, Orangetheory obsessed
COLTON TESSENER
TEAM WRITER
Gym Owner, Arise Athletics
Small Business of the Year by the Knightdale Chamber of Commerce
Strength & Conditioning Coach
BS, Exercise Science
LINDY MILLS
TEAM WRITER
Associate of Applied Science in Physical Therapy
Content writer
Natural and holistic living, including alternative diets
15+ years of ballet
Ultimate frisbee
Forensic debate and research coach
UK sports fanatic (Go Big Blue!)
Crochet enthusiast
STEPHEN UGOCHUKWU
TEAM WRITER
B.S, Psychology, McNeese State University
McNeese Basketball Alumni
Professional Basketball Player
Operation Peace of Mind (OPM) Ambassador
Sports, Medicine
ALYSSA MILLS
CLIENT SOLUTIONS EXECUTIVE
BA, Organizational Communications
Bob Jones University Basketball Alumni
Avid basketball and volleyball player
University Champion Debater
Entrepreneur
Health and nutrition advocate
Vinyasa and Ashtanga Yogi
Passionate about youth ministry, foster care and adoption
Let the team at Exercise.com show you how to grow and manage your fitness business better!